Francisco Pinilla, Regional Marine Services Initiative Lead and Partner at ERM, has played a significant role in ERM becoming a signatory to the UN Sustainable Ocean Principles. Here he explains why the Principles are important, and how ERM can be at the fore in endorsing them.
As a member of the ERM marine initiative, I managed the development of the proposal for ERM to become a signatory to the Sustainable Ocean Principles (the Principles) - a framework for responsible business practices across ocean sectors and geographies that serves as a common reference point on ocean sustainability and builds upon and supplementing the Ten Principles of the UN Global Compact.
Since joining ERM over 18 years ago, I have seen first-hand how our way of working on marine projects and operations has evolved over the years. Originally, when I started at ERM, I was hired as an external consultant providing marine baseline studies with my team. Concepts such as sustainability and good practice were little known then, and the focus was on environmental and social aspects, but little by little the industry evolved requiring standardization and safety. We began, in addition to the requirements of our clients and different governments, to talk transversally about relevant concepts such as Sustainability, Climate Change, Biodiversity, etc.
These topics began to be more recurrent and were backed by international organizations that promoted their relevance and importance, with more and more governments and multilateral agencies requiring them as minimum standards of compliance. These drivers, and our own requirements as a company, have tended towards unification and standardization, allowing our operations today to be more effective, safer and more sustainable than ever before.
For some time, we had been working internally on the topic of Sustainable Oceans and SDG14 (life under water) - how to internalize it, and offer our clients help in understanding and incorporating it into their organizations and operations. Considering our role in the sustainability sector and our work in this space, we found there was already a great deal of alignment with our own goals and aspirations. Becoming a signatory to, and endorsing, the Principles made complete sense for ERM to demonstrate our commitment to assessing our own impact on the ocean, guide an indicated path and give us a frame of reference to articulate our objectives in this space. I am now leading the process of monitoring and aligning our marine operations with them.
Related to this we have implemented a global program for Aquatic Work Management which includes a series of procedures, work instructions and guidance documents intended to guide the planning, mobilization and execution of ERM activities that occur on, over, under or near water. Originally conceived as a Health and Safety based approach, this framework has also made it possible to establish minimum standards in governance, relations with authorities, subcontractors and clients, pollution prevention, waste management and energy efficiency.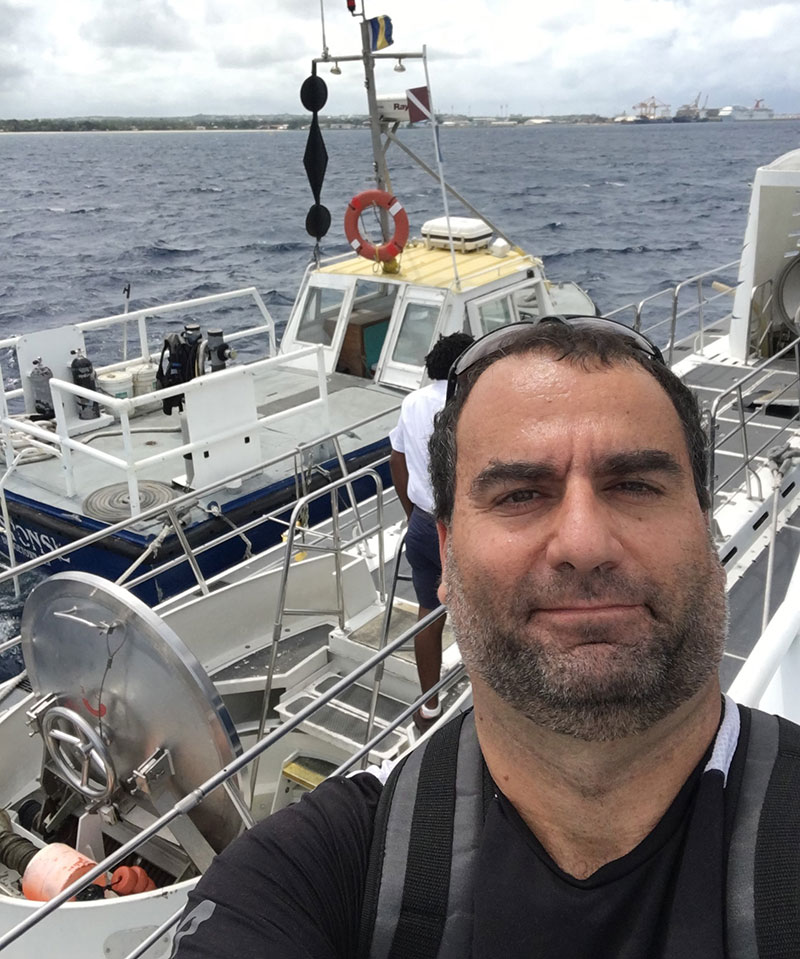 I am also the leader of our Marine Technical Community, which is responsible for sharing the knowledge and technical information generated in all our operations, internally allowing an adequate dissemination of good practices. The community has certainly helped in articulating how the framework influences best practices in this area. ERM's global footprint allows us to experience a huge variety of geographic, political, business and strategic situations and considerations that are extremely helpful in gaining a keen sense of global trends and needs, and the technical community is an excellent forum for us to exchange opinions and experiences.
For me, it's easy to be passionate about something that makes so much sense! The Principles simply outline a series of actions and commitments to promote the well-being of the ocean for current and future generations. I don't see this as a question of ideological or philosophical discussion, it is pure survival! The ocean is life - almost no planetary process can take place without its regulatory role. As long as there is life in the oceans there will be life on the planet, if the ocean dies, life as we know it will also end.
I believe it's so important for each of us to stay engaged, to keep pushing, and to be a driver of change. I am not only ensuring that ERM's marine operations continue on the path of becoming more sustainable, cleaner and, above all, safer every day, but also that we make the Principles as widely known as possible. The combined action of many can generate enough leverage for absolutely everything (organizations, markets, governments) to change and evolve enough to ensure a better future for all.
---
Francisco Pinilla is Regional Marine Services Initiative Lead and Partner at ERM, based in Lima, Peru. As part of his role, he supports all of the marine projects in the Americas Region and aids in the expansion of the marine technical and safety expertise in our global operations. He has more than 20 years' experience in the oil and gas sector with particular emphasis on environmental and social impact assessments, marine safety, marine and riverine projects, natural protected areas, endangered species management, fisheries, and natural resources and conservation.