Ellis Griffith, Chief People Officer at ERM, led the company's World Mental Health Day activities this year. Here they discuss why mental health needs to be a priority for organizations, how we can all play a part in erasing the stigma surrounding it and what more ERM can do, beyond World Mental Health Day, to ensure that mental health and wellbeing is a priority for the company.
Many years ago when I first started leading a people function at a former employer, a senior leader came to me in a deep depression. He was distraught, as was I - I truly didn't know where to turn and was embarrassed that, in my role as a leader in the people space, I had no tools or resources to help him. It was a wake up call for me that I needed to have resources at my fingertips – both in my own skillset and in my organizations toolbox – to help people when they needed it. Since that time, I have worked to ensure that mental health is a priority for the organizations I work with.
Humanity is at the core of every organization – we are not robots. Health in general, and mental health specifically, are incredibly important. There are many who struggle with their mental health, and that 'many' is more than any of us knows – far more than half of us – so it is important that we acknowledge the struggles that so many of us face in our daily lives.
Therefore, being vulnerable myself, I don't see leading ERM's World Mental Health Day and encouraging others to be open to their colleagues as a matter of decision, but as a matter of imperative. It's an opportunity to raise awareness among people who do not struggle, to help them to learn what it is like to have to face mental health challenges or to be a caregiver, friend or family member of someone who is struggling.
The World Mental Health Day 2022 activities at ERM on October 10th kicked off a month (and hopefully regular practice) of reflecting on mental health in the workplace with four of our colleagues stepping forward to tell stories of their mental health journeys as part of our collective effort to educate and destigmatize mental health. The vulnerability that these individuals, who were from every part of the world and every part and level in the organization, showed was so moving and really was an eye opener and wake up call for many. Watching the hundreds of empathetic comments and words of support for these colleagues flow in to the chat was the highlight of my day.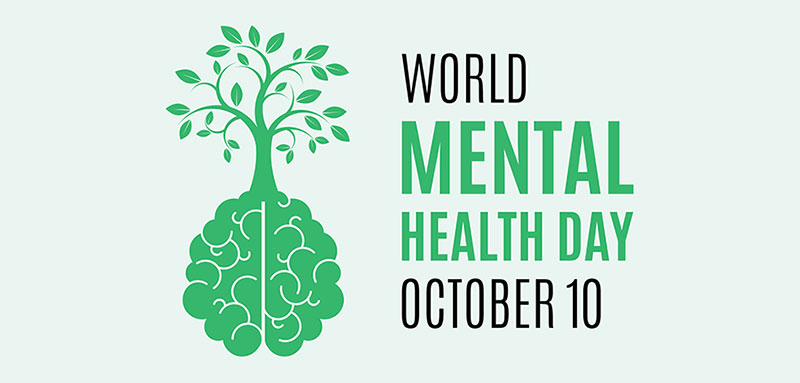 I am quite new to ERM and am so impressed by the time that so many people took out of their day to participate in WMHD activities, how supportive and encouraging people were of each other, how much authenticity and safety there is here at ERM. We have access to tools and resources through the Calm app, our benefits and through our Employee Assistance Program when and where we need them, but the supportive culture I saw as I led these calls is beyond moving. It is unique and inspiring and makes me proud to be part of such a community that cares so deeply about each other. If the activities I have led this World Mental Health Day can shine a spotlight on the strength and fortitude it takes to do that, and to raise awareness among even a few people, the day will have served its purpose in my mind.
But of course, mental health shouldn't be just the focus of one day, one week or one month. We need to acknowledge the humanity of the person on the other side of the screen, or that we pass casually in the office. We need to take a moment to raise each of our empathy levels, however high they may already be, to really realize that our colleagues and our clients are full human beings – that their journeys in life extend far beyond our quick interactions and into what is sometimes an incredibly painful and complicated story.
We all have a role to play in eliminating stigma around mental health. Everyone should feel empowered to talk about mental health, regardless of whether it is part of their 'day job' or not. Ask colleagues and friends how they are, know what resources are available to support each other, understand barriers to treatment and how to overcome them. Talking about mental health and supporting each other has nothing to do with a leadership role. We can all pay attention, be proactive, be vulnerable, and even a little bit uncomfortable. We can know ourselves and our own boundaries and communicate those to each other and within our teams. We can all be thoughtful and reflective. Supporting a colleague may mean helping them to find their way to the right resource or simply asking them if they are OK.
The passion and compassion WMHD 2022 brought forward reaffirmed my belief in the need to always remember that we are a group of humans doing our very best to fulfil a mission – and those humans can't always been strong or perfect. I hope to encourage and empower every person at ERM to seek support, and for us all to pay attention to our colleagues and help them find help if they need it. I don't necessarily think it's about raising the profile of mental health in a big way, it's about one hundred small ways… I suppose that is the big way that we can ensure that mental health remains a priority for all. It's like my favorite saying attributed to Leonard Cohen I believe - "There is a crack in everything. That's how the light gets in."
---
Ellis Griffith recently joined ERM as our new Chief People Officer from McKinsey & Company where they served as regional CHRO and Chief Diversity Officer. Prior to that, Ellis was Chief Talent and Diversity Officer at the American Cancer Society, preceded by a multi-decade career in the people space including working as a consultant for 12 years with Kearney. Ellis has a wife and four children and from personal experience knows that managing a full life – from mental health to physical health to family and work – is no easy feat. Ellis lives in Amsterdam and is passionate about all aspects of the People function but has a particular soft spot for Diversity and Mental Health.