ERM, the world's largest pure play sustainability consultancy, has been awarded the number one position in the Sustainability Services Top 10 report developed by analyst organization HFS.
The in-depth exploration of the market for sustainability services analyses 18 leading providers representing a broad spectrum of consulting, technology and specialist sustainability firms, assessing them across criteria covering execution, innovation and voice of the customer.
ERM achieved the overall top ranking across 10 criteria and was particularly commended for its client and case study portfolio, voice of the customer, strategy and vision and its ecosystem. The firm was also ranked among the leaders for its execution capabilities and resources.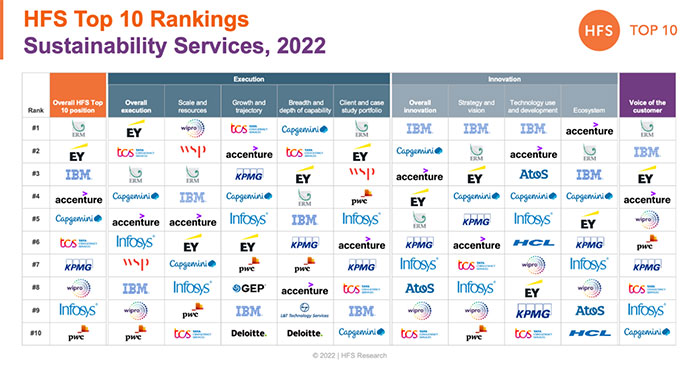 Josh Matthews, Practice Leader at HFS said: "ERM's 50+ years of sustainability experience and engagements has set the standards others follow. Few firms can match its level of senior management engagement on sustainability. ERM's "boots to boardroom" approach to operationalize full sustainability from strategy through to implementation is what many other sustainability services providers aspire to."
Tom Reichert, ERM Group CEO, said: "We're very proud that ERM has achieved this number one ranking in HFS's comprehensive assessment of the sustainability services market. It's testament to the passion and skills of our people across the globe, who are striving every day to help our clients address complex sustainability challenges and make a positive impact.
"We welcome the valuable insights HFS is providing into the sustainability services landscape, which is clearly evolving at an exciting pace. We need an extensive ecosystem of sustainability service providers and a spirit of partnership and collaboration to address this growing market.
"In the UN's decade of action, companies recognize that they must accelerate their plans to operationalize sustainability. While more organizations have set ambitious sustainability goals and are taking the right steps to invest in technology and improve their reporting, the real challenge lies in embedding sustainability throughout their operations.
"This is where ERM can help – by turning strategy into execution on the ground. Our purpose of shaping a sustainable future with the world's leading organizations has never felt more relevant than it does today."
---
About ERM
ERM is the business of sustainability.
As the largest global pure-play sustainability consultancy, ERM partners with the world's leading organizations, creating innovative solutions to sustainability challenges and unlocking commercial opportunities that meet the needs of today while preserving opportunities for future generations.
ERM's diverse team of 7,000+ world-class experts in over 170 offices across 39 countries supports clients across the breadth of their organizations to operationalize sustainability. Through ERM's deep technical expertise, clients are well-positioned to address their environmental, health, safety, risk, and social issues. ERM calls this capability its "boots to boardroom" approach - a comprehensive service model that allows ERM to develop strategic and technical solutions that advance objectives on the ground or at the executive level. Learn more