Source Energie has welcomed The Crown Estate's publication of five broad "Areas of Search" for floating offshore wind energy generation projects in the Celtic Sea, including opportunities for low carbon green hydrogen production. The areas will be developed to help the UK achieve its renewable energy and net zero targets while boosting energy security and driving economic development.
The aim is for these areas to deliver 4GW of floating offshore wind energy by 2035, providing power to almost four million homes. The Crown Estate will conduct a competitive tender process in mid-2023, with a focus on larger, 1GW-scale projects which may be developed in a phased approach. These projects will provide opportunities for significant investment in the supply chain and supporting infrastructure, helping to sustain existing industries' presence in the locality and drawing new industry into the regions where these project outputs land, ultimately creating new jobs.
The news came at an exciting time for Source Energie, who will be using Dolphyn technology to produce large scale low carbon green hydrogen from floating offshore wind in the Celtic Sea, with the hydrogen sent directly to shore via pipeline. The Source Energie team is seeking to use Dolphyn technology to develop a 300MW wind farm named Dylan by 2028, with expansion to GW scale to follow in the 2030s. In addition, they are seeking to develop a separate GW scale wind farm to the south of Dylan, named Myrddin, in a similar phased approach, also potentially using Dolphyn technology.
Based on early site constraints assessments undertaken in 2021 and commencement of bird and mammal aerial surveys in early 2022, Source Energie's team has welcomed the alignment between The Crown Estate's Search Areas 1 and 3 with the Dylan and Myrddin development areas it had already targeted for hydrogen production. The Crown Estate announcement confirms that the locations selected for Dylan and Myrddin offer good energy generating conditions.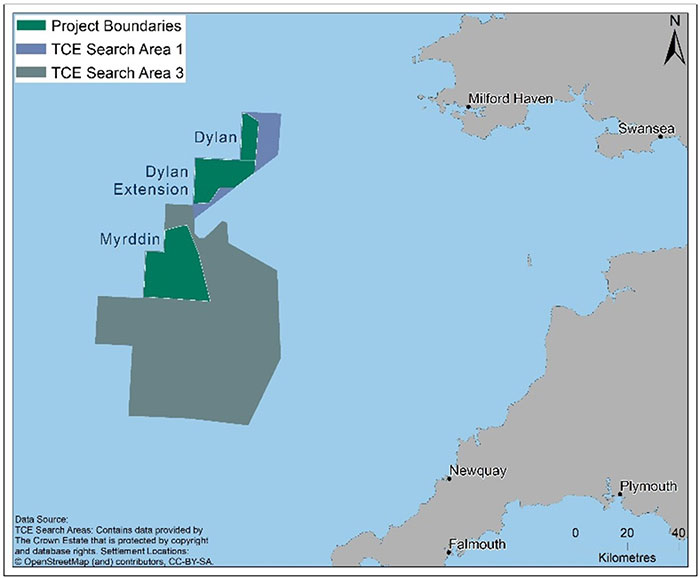 Source Energie and the team behind the Dolphyn technology are very much encouraged by The Crown Estate's inclusion of hydrogen production at the core of its Celtic Sea plans, alongside other electricity generation opportunities. All view this leasing round as a key mechanism for accelerating large scale production of hydrogen, and they are appreciative of the active support provided to Dolphyn by Welsh, Scottish and UK Governments, who all recognise the role that this technology has to play in the UK's energy future.
Kevin Lynch, CEO of Source Energie said: "The Celtic Sea offers a unique opportunity for large scale power production from offshore wind. Offshore wind is now more important than ever and Source Energie is excited to see the plans in the Celtic Sea become more tangible with The Crown Estate announcing the key target areas for large scale floating wind projects. The Celtic Sea is a strategic location for power generation with optimal conditions for floating offshore wind projects. We look forward to working with all the relevant stakeholders to take our plans forward."
Steve Matthews, Director for ERM Dolphyn said: "We are delighted that low carbon hydrogen is at the centre of The Crown Estate's proposals for the Celtic Sea. The Dylan and Myrddin projects being advanced by Source Energie will enable Dolphyn to take a world leading position in offshore low carbon hydrogen production, helping the UK to achieve its net zero ambitions, whilst also improving its energy security.
"The infrastructure required to deliver these projects through construction and operation will help transform local economies, by supporting the development of supply chains that will help to drive innovation and generate thousands of long-term employment opportunities."
ERM Dolphyn and the proposals for offshore hydrogen generation in the Celtic Sea are supported by the Welsh Government Smart Living Initiative, as part of its commitment to the national hydrogen economy and are aligned with the objectives of the Wales Hydrogen Pathway (December 2020) to drive transformative technologies and production. The support for hydrogen production at scale is embedded within the policy framework of Net Zero Wales, the Welsh Government's second carbon budget (2021-2025). More detailed policy work is now underway, focussing on support for major deployment projects and a skills and qualification framework. This will help Wales become a market leader in hydrogen production and fuel cell technologies, as outlined in the Welsh Government's Hydrogen in Wales consultation response.
The Welsh Government funded Phase 1 and Phase 2 studies to explore the suitability of the Celtic Sea to combine offshore floating wind and low carbon hydrogen production. The final report on Phase 2 of the study will be published shortly.
---
About Source Energie
Source Energie was founded to accelerate the roll-out of large-scale renewable energy projects as part of the energy transition to a sustainable future. The team behind Source Energie has led over 15GW of wind and solar PV projects on a global scale including 5GW of offshore wind projects in UK and Irish waters. Now established in London and Dublin, Source Energie is currently developing 5GW of offshore wind, solar PV and storage projects across Ireland, UK and Norway.
Source Energie is partnered with Galileo Green Energy, a pan-European, multi-technology, renewable energy developer, owner and operator launched in 2020 by HRL Morrison & Co, the international investment manager. Learn more
About ERM Dolphyn
The award-winning Dolphyn technology is a first of its kind technology, which combines electrolysis, desalination and low carbon hydrogen production on a floating wind platform. It has been developed by ERM, the world's leading sustainability consultancy, with significant support from the UK, Scottish and Welsh Governments. The intention is to harness its full potential by working with energy developers and investors at multiple locations globally.
The hydrogen produced by Dolphyn is returned to shore via pipeline, where it can be used for power generation, transport, industrial use and heating. At the point of use, hydrogen produced from Dolphyn is zero carbon. The North Sea and the Celtic Sea are viewed as significant areas of opportunity for Dolphyn, and business plan aims to make the most of these - working together with energy developers to produce affordable hydrogen at a scale that will materially impact our shared net zero ambitions.
ERM Dolphyn was recently awarded £8.62m of funding from UK Government, via the Low Carbon Hydrogen Supply 2 Competition, to advance Front End Engineering and Design (FEED) for a Dolphyn commercial-scale demonstration project near Aberdeen, Scotland; and to develop and deploy offshore Hydrogen generation trials in Pembroke, Wales.