Why climate-related risk is a material topic for ERM
Climate-related risk is not just an environmental issue, but also one that has a direct impact on ERM's business, reputation as well as our ability to retain and attract talent. ERM has worked with energy-intensive industries for many years, and our portfolio of clients and projects is in transition as the economies in which we work are in transition. Using the TCFD framework, we are proactively investing in our services, skills and expertise to meet the changing needs and expectations of our clients, employees and industry partners. Our most significant contribution in helping to combat climate change is through our work with clients, in some of the most energy-intensive industries, as they transition to a lower-carbon future. We have set a public target to grow the revenue from services that support the transition.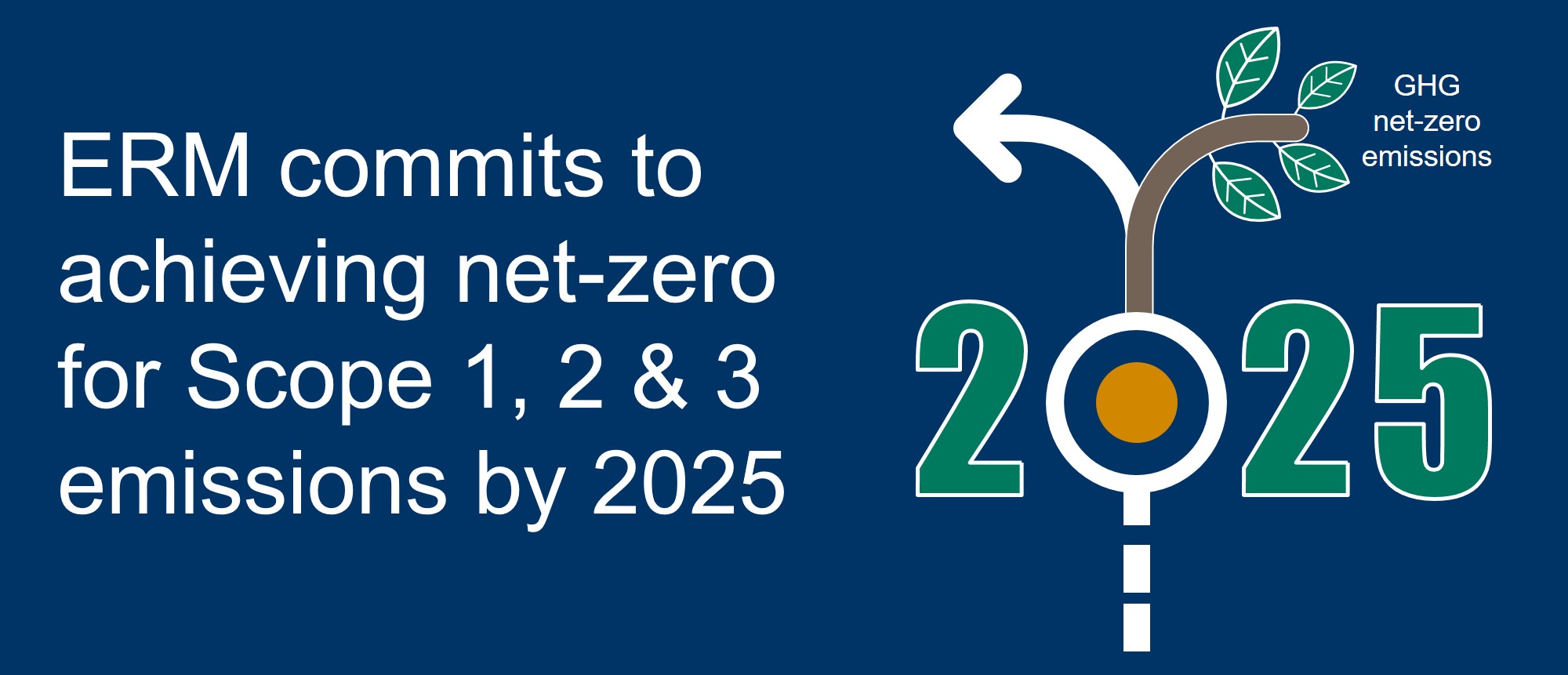 In addition, we continue to take steps toward reducing our direct and indirect impact on climate change. We have committed to net-zero across our operations by 2025 and will strengthen our Science Based Targets to align to a 1.5 degree Celsius target. Many environmental issues – from waste and water management to protecting biodiversity and livelihoods – are integral to a holistic approach to climate change. We are using the lessons learned from the impact of the COVID-19 pandemic to re-examine our approach to reducing greenhouse gas emissions related to business travel and commuting. Chapter Zero, a member organization of non-executive directors, recently featured ERM's climate strategy as a case study in its toolkit: Principles and frameworks for climate change strategy and action.
We set two companywide climate targets for FY21 and met or exceeded both of them (see below).
Highlight
Our performance
FY21 target
Remain on track to meet science-based targets of 30% reduction in Scopes 1 and 2 and 11% reduction in Scope 3 emissions by 2025.
Increase sales supporting low carbon economy transition by 25% over FY20
Results
On track to meet our science-based targets by 2025.
Sales supporting the low carbon economy transition increased by 46% over FY20.
View our FY22 targets.