Many companies understand that communicating about their sustainability activities can give them a competitive advantage against their peers.
Consumers are increasingly sophisticated in their understanding of sustainability issues and will make purchasing decisions accordingly. Employees look at organizations' sustainability credentials as a key consideration in their next career move. Investors are directing capital towards organizations with recognizable performance in environmental, social and governance (ESG), utilizing external rating agencies as part of their due diligence.
At the same time, regulators are introducing a raft of new corporate disclosure regulations - increasing the level of transparency around businesses' sustainability activities.
Within this context, the communication stakes for companies are high. In the race to burnish their sustainability credentials, companies need to ensure that they don't fall foul of greenwashing claims or, worse, through regulatory intervention or lawsuits.
Preparing for green claims regulation
Companies 'greenwash' when they either exaggerate or fabricate the environmental impact of their company, services or products in order to make the company or product appear more attractive, or to deflect from potentially environmentally harmful operations by focusing on activities which are more environmentally friendly. For some companies, fear of perceived greenwashing has led to saying very little about their sustainability activities, referred to as 'greenhushing'.
In response to stakeholder concerns, on 11 May 2023, the EU Parliament approved a new directive aimed at tackling false claims made by organizations, meaning that terms like ' environmentally friendly', 'natural' and 'biodegradable' could be banned unless there is clear evidence to support the claims. This could involve requiring verification of green claims in product labelling before being able to go to market.
Combined with other new regulatory disclosure frameworks, such as the SEC's proposed climate reporting requirements in the US and the EU's Corporate Sustainability Reporting Directive, which will mandate more organizations to disclose ESG data, a more consistent taxonomy is emerging against which we can audit our communications.
To prepare for these requirements, and to meet the increasing expectations of stakeholders with transparency and integrity, companies need to proactively manage the way they communicate to ensure they are not overpromising on their sustainability claims – and do this consistently across all their communication touch points.
Anti-greenwash checklist
Building a coherent communications narrative based on the concrete actions an organization has taken is the safest way to avoid accusations of greenwashing, as well as offering potential sources of differentiation from competitors. Companies can ensure they do this through following a three-point 'anti-greenwash checklist: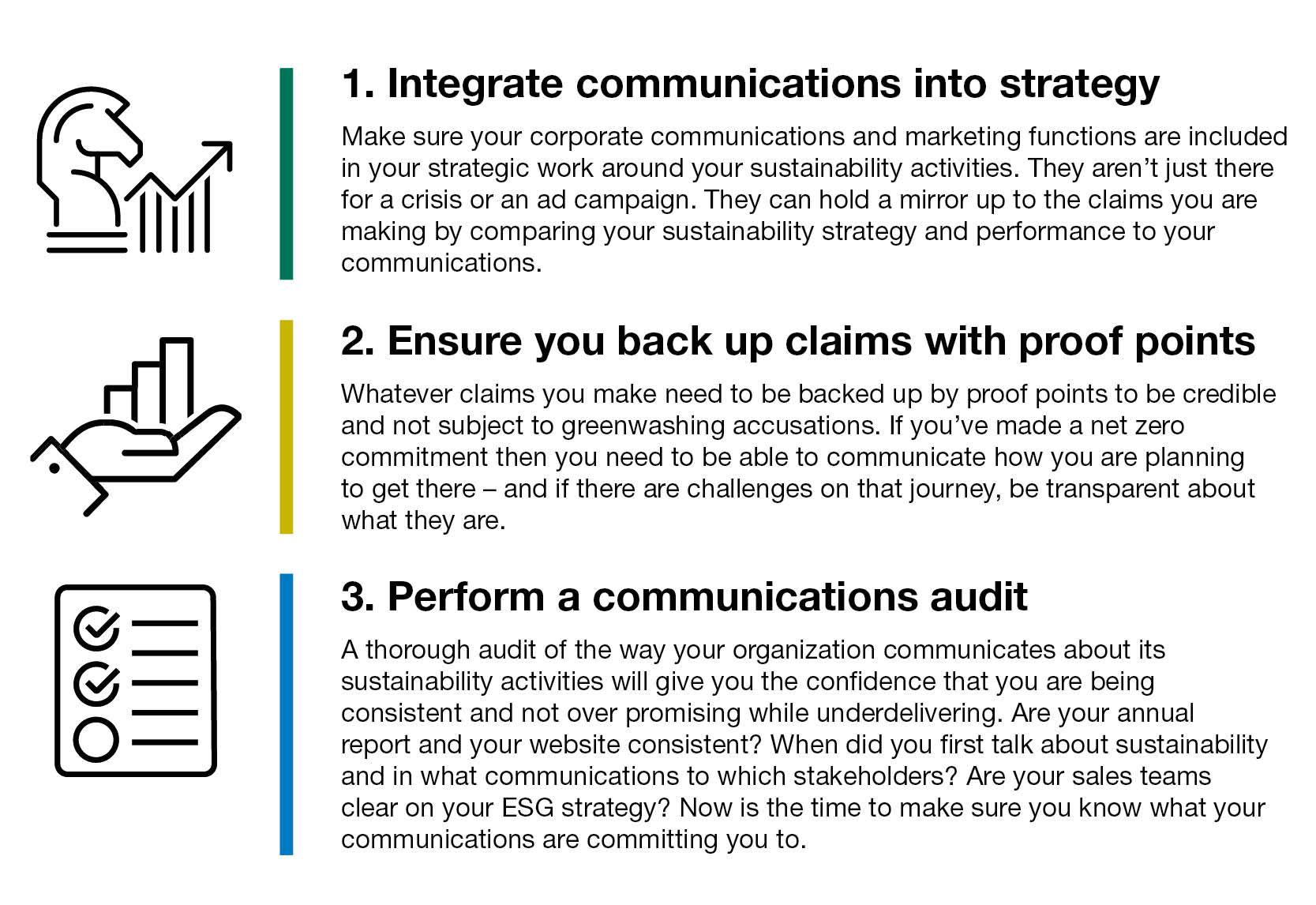 What does a good sustainability communications strategy look like?
Ensuring that the company's communications strategy is connected directly to its organizational objectives around sustainability is key. This has to be an organization-wide approach – involving marketing and communications teams as well as customer facing employees – anyone who is talking about work in this area needs to be clear of the boundaries and be armed with the right elevator pitch.
ERM works with clients across the globe to support their sustainability communications strategies. Here are three standout approaches which ensure they remain relevant and credible to their key stakeholders:
1. Build your communications on a strong foundation
Maintaining and refreshing your environmental, social and governance (ESG) materiality assessment provides a good grounding in topic areas that remain relevant to your stakeholders and enable you to keep track of what is important to them. Not just an exercise to be completed as part of compliance with regulatory frameworks, a good materiality assessment should inform your communications strategy if you ask the right questions.
Stakeholder perspectives and information needs could have changed, for example, placing an even greater need to understand supply chain practices. This is an opportunity to create engaging messaging around each area of relevance for your organization.
Some messages will play out differently in different cultural contexts so take the opportunity to explore and test that. Once you have consistent messaging then you can build a bank of case studies with proof points around each and use them to produce engaging content across all your channels. This means your teams don't need to continually produce new content from scratch, which could result in incorrect claims. Instead, you have an evolving bank of strategic messages that resonate with your core purpose and keep your leadership on track in their internal and external engagements.
2. Integrate your sustainability and business strategy
Ensuring your sustainability strategy is not separate from your business strategy is key to building trust in your organization and enabling a team of confident brand ambassadors. This is increasingly important, not just to consumers, but to employees and prospective talent.
How well organizations embed sustainability within their core operations is a clear differentiator, but no one will know that unless you communicate it well, with consistency and robust proof points. Companies that gain sustainable competitive advantage don't let fear of greenwashing or regulatory compliance kill creativity – authentic storytelling with a focus on people and purpose will resonate with many target audiences.
3. Align internally
Once you have agreed your sustainability strategy and the communications plan, then it's essential that you educate your people on the key 'why' behind it. ERM does this through workshops or educational e-learning. This ensures two key advantages – you bring your organization with you on the journey to more sustainable operations, which in some cases involves significant change – and you make sure they don't make claims which your strategy can't deliver on.
How successfully firms communicate their progress on sustainability is a key determinant of managing risk and enhancing reputation. Ratings agencies track it, investors expect it and employees demand it. However, in a world of greater transparency and more stringent regulatory requirements, ensuring sustainability communications are built on a foundation of technical credibility will increasingly determine success.