The Renewables Consulting Group (RCG), an ERM Group company has released a follow up to their Global Offshore Wind: Annual Market Report for the 27th Conference of the Parties of the United Nations Framework Convention on Climate Change (COP 27).
The report, Global Offshore Wind Market Report: COP 27 Highlights examines progress made in the global offshore wind sector since COP26 and challenges facing the industry, while outlining how government should help, and how to accelerate the offshore wind industry in emerging markets.
The report finds that the global offshore wind project portfolio has increased by 112% globally since COP 26, with Brazil and the United States cited as countries driving the highest percentages new offshore wind projects announced over the last year.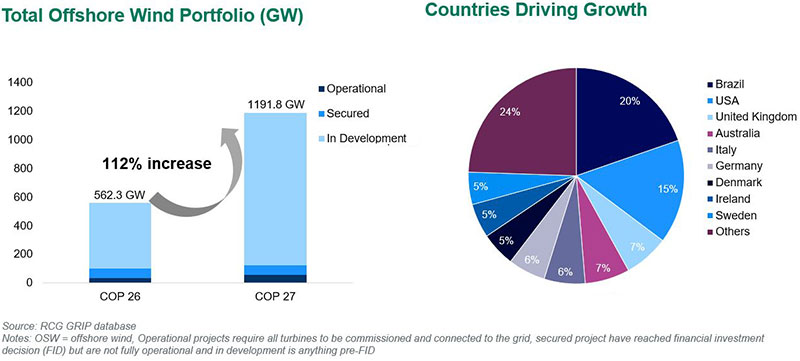 Already a leader in offshore wind, the UK has further increased its target, and in addition to their existing net zero ambition, many European nations have accelerated growth plans in response to rising energy security concerns.
However, the report also reveals that several developed and emerging markets are falling behind their stated net zero climate ambitions. Of the fifteen countries that have offshore wind specified development targets for 2030, 80% are already predicted to miss their stated goals - only Poland, Vietnam & Denmark are forecast to complete their 2030 ambitions.
The report examines reasons why countries are falling behind these climate change ambitions, highlighting that planning and obtaining approvals for offshore wind consent takes four to five years on average and proposing that regulatory bodies investigate shortening consenting processesto deliver the significant expansions that are needed to stave off climate change.
Macroeconomic factors are also noted as a challenge, as offshore wind faces serious cost inflation due to raw materials shortages and price increases. While offshore wind remains competitive, increasing capital costs may continue to undermine net zero goals and targets.
Download the full executive summary
Learn more about ERM's presence at COP 27
---
RCG's full analysis and forecasts can be viewed in its Global Offshore Wind: Annual Market Report, available through an enterprise subscription to their Global Renewable Infrastructure Projects (GRIP) Database. The 200-page summary includes details on each offshore wind market with analysis of the resources that will allow projects to reach route to market, financial close, and commissioning milestones. An overview of the global supply chain is also provided. Learn more