ERM, the world's largest pure play sustainability consultancy, has been named as a top performer in 'Reporting matters 2023', the annual review of companies' sustainability reporting developed by the World Business Council for Sustainable Development (WBCSD).
The review is designed to improve the effectiveness of corporate sustainability reporting by providing guidance and showcasing best practice. For the fifth consecutive year, ERM is one of a select group of companies recognized by WBCSD as setting the standard for transparent and impactful sustainability reporting. ERM's latest Sustainability Report provides a comprehensive insight into how the company is increasing its impact across the climate, nature and social challenges facing society.
This year's edition of WBCSD's Reporting matters, titled "Delivering Impact in a Time of Complexity", introduces an evaluation framework which aims to balance compliance requirements with the need to maximize the value of reporting to drive positive change. The new framework draws on the latest sustainability reporting developments led by global standard-setting bodies and government agencies such as ISSB, EFRAG, and SEC.
Sabine Hoefnagel, Global Leader of Sustainability and Risk at ERM said: "At ERM, our sustainability reporting is built on the principles of transparency, accountability and impact, and we are delighted to be recognized by WBCSD for our efforts."
"By continually striving for best practice in our reporting, we are well-positioned to help our clients navigate this era of evolving disclosure requirements and rising stakeholder expectations, with the ultimate aim of driving the action on sustainability required to accelerate the path to net zero".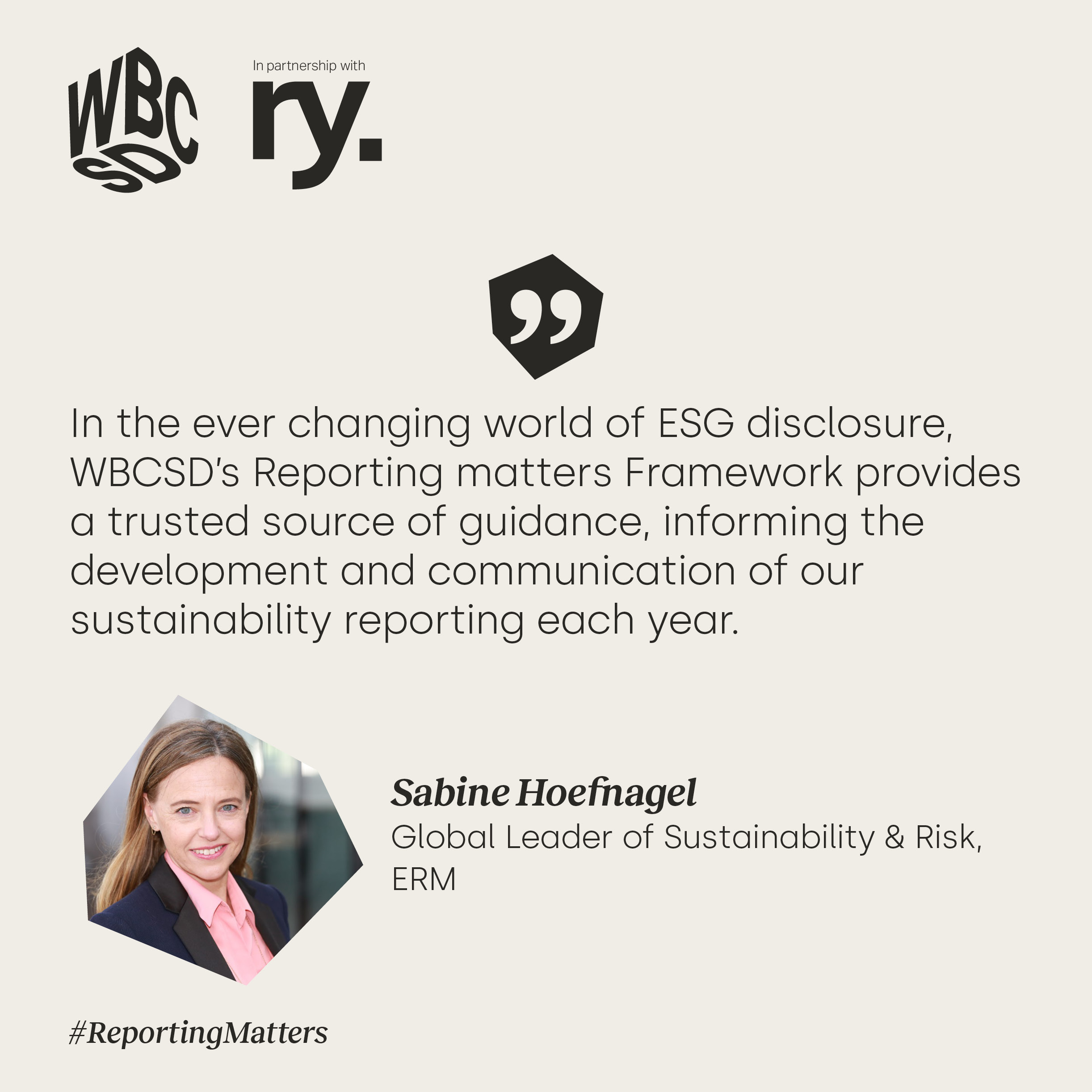 ---
About ERM
Sustainability is our business.
As the largest global pure play sustainability consultancy, ERM partners with the world's leading organizations, creating innovative solutions to sustainability challenges and unlocking commercial opportunities that meet the needs of today while preserving opportunity for future generations.
ERM's diverse team of 8,000+ world-class experts in over 150 offices in 40 countries and territories combine strategic transformation and technical delivery to help clients operationalize sustainability at pace and scale. ERM calls this capability its "boots to boardroom" approach - a comprehensive service model that helps organizations to accelerate the integration of sustainability into their strategy and operations. Learn more