Background
HS2 (High Speed Two Limited) is a wholly government-owned company dedicated to delivering a new high speed railway connecting the major UK city centres of London, Birmingham, Manchester and Leeds. Each of the project's three phases requires a new Act of Parliament and each piece of legislation requires an independent environmental impact assessment (EIA).
The size and scale of the assessment and resulting Environmental Statement (ES) for Phase One of HS2, which runs for a distance of approximately 143 miles (230 km) between London and the West Midlands, was unprecedented in Europe as the largest and most detailed of its kind. HS2 went through a rigorous tender process and selected ERM to help to deliver this integral component of the approval process.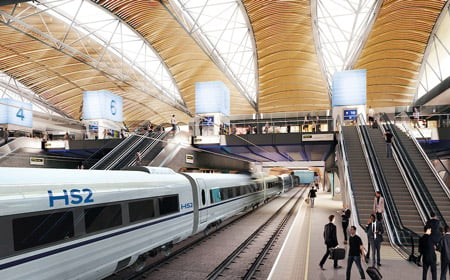 ©HS2 Ltd/Grimshaw
Our Approach
To achieve the project's demanding timescales; ERM implemented and led an innovative consultant team with two other highly-respected environmental firms, creating a three-firm consortium.
The ERM-led consortium conducted a rigorous and comprehensive analysis of the sustainability and environmental challenges presented by the project, with mitigation measures put in place to provide the most environmentally optimal solution. This involved over 13,000 site visits and engagement with over 650 landowners, and the ERM-led consortium was responsible for half of the EIA work for Phase One of the project.
ERM has been involved with the assessment of the HS2 project from the start. Our specialised insight into the genesis and development of a major high-speed rail project helped with the key planning, design and stakeholder issues that arise in connection with major infrastructure projects.
Benefits and Value
Information collected through ERM's experienced EIA resources provided the necessary data to help inform Parliamentary decisions and secure HS2's license to operate sustainably. ERM will continue to support HS2 as it moves towards a scheduled completion date of 2026, for Phase One; through to 2033 for Phase Two completion. Once completed, the network will be approximately 345 miles (530 km), with train operating speeds of up to 225 mph (400km/h).